Crystal Fasano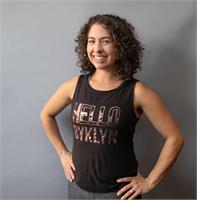 Name : Crystal Rodriguez-Fasano
Hometown:Brooklyn, New York
Why Byklyn?
There is something so refreshing about the diversity at BYKlyn. I have worked at studios where the vibe was robotic and instructors were almost expected to be a mold of one another. BYKlyn is the complete opposite. All of the instructors have their own unique qualities and we are encouraged to be our authentic self which is truly amazing. Our members have incredible energy and they also come from different fitness backgrounds, walks of life, but what they all bring to the studio, is energy, drive, ambition and just the bad ass attitude that is Brooklyn!
What's your class really like?
My class is very much like my personality. It's encouraging and mindful of everyone's fitness level. I like to "meet my riders where they are" and I push you to work as hard as you can, or scale back if your body is not ready for it, at the end of the day, I just want you to feel successful at the end of your ride. I like vibey music and I LOVE hill work, so think of my class as a strength based ride. Your legs will work !!
What's your music vibe?
I like variety. I love old school Hip hop, current hip hop, pop music, regeatton, (so think Beyonce, Rihanna, Nikki Minaj, and then a little bit of Selena Gomez and old school Destiny's Child. Every once in a while you'll get some 90's rock to get you through a hill.
Life Beyond the BYKbox:
Outside of BYKlyn I'm a Personal trainer and Holistic Health coach with a Specialization in Pre-Post Natal exercise and women's health/hormone balancing. I have an amazing Husband who supports all of my craziness and I love him for that!!
Anything Else you want us to know?
I have a 100lb Alaskan Malamute named Elmer who I'm obsessed with!!! My favorite pass time is hanging out with him because he is the sweetest most hilarious dog ever. Warning.... if you ask to see a picture of him be prepared to see 20 pictures and then about 3 videos because I'm a crazy Malamute Mama haha!!
Social
Instagram : @crystalrf_fitness
Website: crystalfitwellness.com
Crystal Fasano instructs the following:
Discounted PureBYK classes for riders on a budget. $20 (plus tax and shoes) for anyone who can get here a little early—teachers, students and everyone really. Same great class, same results, just a little cheaper so more people can join us!




THE BYKlyn Experience: 45 minutes of high intensity cardio in our BYKbox to AMAZING music fitting the ride. Hills, Flats, Sprints, Intervals. This is a "no push up zone".




BYKlyn full body workout: 45 minutes of raging cardio followed by a 5-minute arm sizzle and chisel to the right of the bike!