Tyeshia Aguilar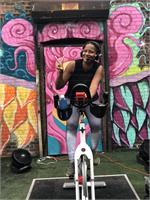 Name:
Tyeshia Aguilar
Hometown:
The best place to be. Brooklyn born and raised!
Why BYKlyn: BYKlyn is like a second family to me. I came in as just an Indoor Cycle enthusiast, but I loved it so much I joined their training program to become an instructor and the rest is history.... BYKlyn embraces all people from any walk of life, which makes it so special. You never know who you are going to meet, but you do know you will sweat it out together. It's a place to have fun, work hard, and walk away feeling better than ever.
Life Beyond Byklyn: I am an overall wellness fanatic! I'm typically helping those closest to me come up with healthy eating habits or just becoming a better them.
Anything else we should know: This is a secret(not really), but alongside Amy, I am co-founding the BYKlyn non-profit! We are bringing that BYKlyn swag to areas across Brooklyn. My goal is to empower any person to live a healthy lifestyle regardless of their background. Stay tuned!
Tyeshia Aguilar instructs the following:
THE BYKlyn Experience: 45 minutes of high intensity cardio in our BYKbox to AMAZING music fitting the ride. Hills, Flats, Sprints, Intervals. This is a "no push up zone".




No better time to give thanks for all the music we love from AROUND THE WORLD. Burn off that turkey and crush that pie to sounds from the Caribbean, Afro Beats, Latin, K-Pop, and Bollywood. Join our world gratitude party this weekend!